Jackal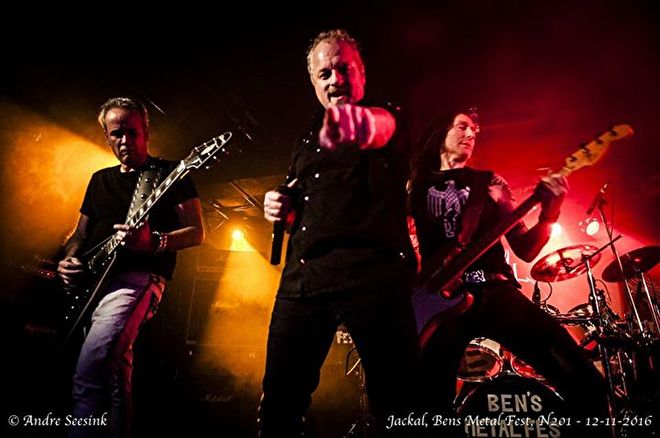 JACKAL started in 1985 and released the CD "Cry Of The Jackal" in 1989 after several demo's.
The CD received good reviews in metal magazines en was played at radio several national & international radio stations at the time. We also received great response from several countries in the world especially from Germany.
Jackal did shows with bands as Angus, Hot Legs, Baby's Breath, Vexation, Chalice, etc. In 1992 the band went dormant.
In January of 2007 original members John and Rick kick-started the band again. New bandmembers where found, rehearsals started and after their ball breaking debut on 12-12-08 in de Kade in Zaandam the band is playing full force again!
In 2010 original singer Erwin Siereveld joined the band again.
Since then the guys have worked hard on old and new songs and played with bands like o.a. Lizzy Borden, Tygers of Pan Tang, Picture, Higway Chile, Martyr, Vanderbuyst, Iron Fist and Custard.
JACKAL is about to release their new album 'God of War'.
JACKAL guaranties powerful Old School Metal.
Melodic and powerful, slow and fast songs all made to last and kick ass.
Metal with a Bite!
Warenkorb
Keine Artikel im Einkaufswagen.