Martyr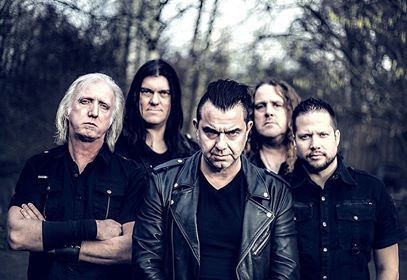 Martyr disbanded in 1987 but reunited in 2001 to play the Heavy Metal Maniacs festival. Four years later the band revived almost the complete 1982 line up to play the Headbangers Open Air and Keep It True festivals. The flame started burning again and the band have continued to play live ever since. December 2008 MARTYR supported US Shock Rockers Lizzy Borden on their European tour. In 2009 and 2010 MARTYR hit the European stages supporting great acts like Flotsam & Jetsam , Vicious Rumors, Jaguar, Evergrey.
In 2009 the first new Martyr record in almost 25 years was released . That's when the new EP 'Fear' was coupled with a re-release of the classic 'For The Universe' album as a double digipack entitled 'Fear The Universe' on Rusty Cage Records (RCR0017).
In 2010 and 2011 Martyr re-entered the studio between the live shows, working on the successor for 'Fear'.
A complete new album entitled "Circle Of 8" was released by Metal Blade Records in November 2011 worldwide and has proven to be a significant impulse in Martyr's revival after it's release. With 30 years of MARTYR (with a big celebration in their home town Utrecht – Tivoli) and 30 years of Dutch Steel signed with Metal Blade again : "The Clan Is Back Home and stronger than ever….."
And the band proves it again in 2015 and 2016 with new national and international tours and ……a heavy new album recorded in 2014 and 2015!
2016 till 2018 were years of heavy touring and some changes. 2019 will be the year of the new album and the release of their first live album "Martyr Live In Japan".
Warenkorb
Keine Artikel im Einkaufswagen.