* ANA Metal For Charity *
This charity project has been founded by Marius Danielsen and Anniken Rasmussen. With an impressive all star lineup we will raise money for cancer research. After a long period of writing, recording by all artists and putting everything together the album will be ready in 2017 to be released. The full 100% of the incoming money will go to this project.

Anniken and Marius stated:
"We have seen this horrible disease up close. It seems to affect everyone in some case. For quite a while we have had a wish to contribute to the fight against cancer. Now just felt like the time. Ana was originally written in remembrance of someone who died of cancer. We wanted to use it for an even greater cause. However, we wanted to make a fight song, so we had to rewrite some of the lyrics. We are grateful for all the contributing parts and hope that we can make a difference".
There will be two songs by the all-stars:
1. Ana written by Marius and Anniken
2. DIO Cover Holy Diver
Also some songs will be included on the CD donated by participating bands.

The album will be made available as a digipack, to buy from the shop and online as well as download and through all major streaming sites.
Shopping cart
No items in shopping cart.
Offers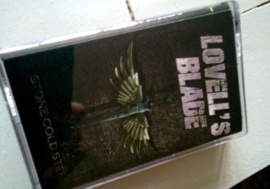 Cassette/Tape - Stone Cold Steel
€ 8,00
€ 7,00